A solar tube is an odd thing to see in the wild. A skylight is obvious: it's a big, glass-dome-topped hole in your roof that lets the sun shine in without letting in the rest of the great outdoors. Skylights tend to be large; several square feet or more. All that glass means a whole lot of free sunlight can come pouring in to light the room below.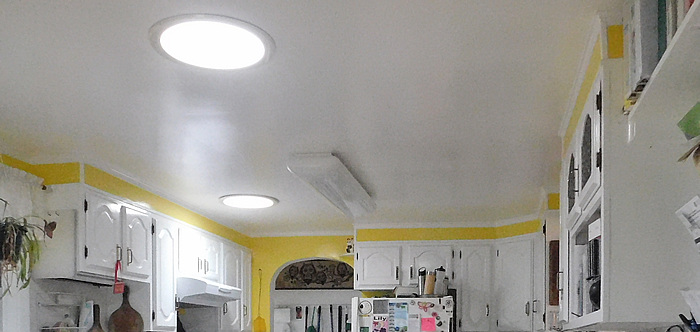 A solar tube looks so small that it asks a question: How can a glass pane the size of a large dinner plate let in enough light to make it worth cutting a hole in your roof? And there is the fact that the tube, which looks like an oversized dryer vent, ensures that the light has to travel a long way from your rooftop, through your attic, and thence into the room below. Surely light must be lost on the journey to the glass dinner plate set into your ceiling.
So the solar tube does seem questionable. They are expensive, need professional installation if you don't want your roof to leak, and they don't seem to offer nearly as much light as a skylight would.
In practice, they are tremendously useful. When we bought our house, our kitchen was permanently dark. It has three windows; a large double-hung facing the neighbor's house that does receive direct sun in the morning and two much smaller double-hung windows side by side over the sink that never receive direct sunlight as they open onto our Florida room. The backdoor opens onto the Florida room as well, but it opens onto a small foyer with an archway opening into the kitchen that blocks some of the indirect light.
This means that we always had the kitchen lights on, no matter how sunny.
The situation was the same in our main bathroom, as well as the upstairs bathroom. No matter the time of day, if you wanted to use the facilities, you had to have a light on.
Seduced by Solar Tubes
Bill and I saw solar tubes demonstrated at a home show and we were intrigued. I collected information on them and when we got around to reroofing the house, we had four of them installed: two for the kitchen, and one for each of our bathrooms.
I bought the largest tubes that would fit between the joists without having to cut them, 14-inch-wide tubes. Both kitchen tubes are plain tubes; they have no light or ventilation kit. Tube one is near the sink and counter where we prep food. Tube number two is near the center of our eat-in kitchen so complements the light that comes in through the windows.
Bringing Light Into Darkness
The difference was literally like night and day. We no longer turn on the lights during the day unless the weather is bad or the tubes are buried in snow. When the moon is full, they even function as a nightlight. When Bill was working at the newspaper, he could come in at 2 a.m. and walk through the kitchen without turning on the lights.
To demonstrate the magic of the tubes, here's some pictures Bill took of our kitchen on a typical, dreary December day in central Pennsylvania. These photos were resized to 700 pixels wide and 79dpi and sharpened, but not otherwise adjusted. They match what our eyes tell us.
The first photo shows the kitchen lit only by the tubes.
No other lighting is in use. Looks terrible, doesn't it? Grim and gray.
The second set of pictures shows the same space with the tubes covered with cardboard. The kitchen goes from dismal to sub-dungeon.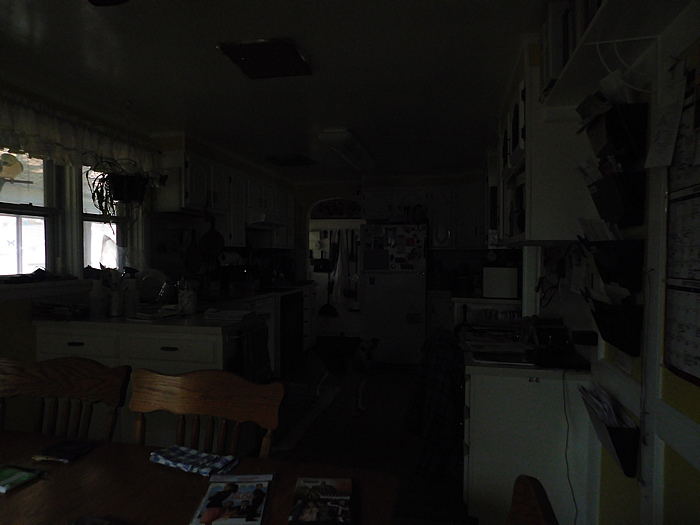 I love these tubes. We've had them in place for over a decade now and have never had a problem.
The tubes in the bathrooms both came with ventilation kits and the upstairs bathroom has an added light fixture. The bathrooms never need to have a light turned on during the day. Light from the main bathroom's tube even spills into the hallway. The upstairs bathroom is a very small room and when its door is open its light fills the adjacent bedroom.
If I could run a solar tube to the finished basement, I would. Supposedly you can do this with a flexible dryer vent tube run through a chase built into a closet.
Solar Tube Design and Installation Advice
A solar tube doesn't belong everywhere. Each one is a hole in the roof. You also don't want this light pouring in everywhere. A tube in your living room or hallway makes it sunshiny and bright. A tube in your bedroom will get you up at dawn every morning, whether you want to or not. I would not install a tube in a closet as the unrelenting sunshine could fade your clothes; they are better off stored in the dark. Pantries don't need this kind of light either, as food storage spaces should always be cool, dry, and dark.
I would put tubes in hallways, stairwells, offices, garages, and studios as well as kitchens, bathrooms, and living rooms. The sunshine makes everything more cheerful.
If you are considering how to increase your natural light levels in your home, then solar tubes may be the way to go. They are not cheap and, unless you are very skilled in the building trades, they are not a do-it-yourself project. You need clear attic access over the ceiling you want to put them in. If you are buying a tube with lighting or ventilation or both, you'll need wiring access. The best time to install them, since they involve cutting holes in the roof, is right after you replace the roof.
Solar tubes have been a valuable part of my continuing efforts to get more light into our home and I highly recommend them. I love ours. They go a long, long way to keeping a central Pennsylvania winter from becoming even more gloomy and depressing than it already is.
This post reflects the kind of material you'll find in Teresa Peschel's "Suburban Stockade: Strengthening Your Life Against An Uncertain Future," available at Amazon and Kindle Unlimited. More about the book can be found at our website.