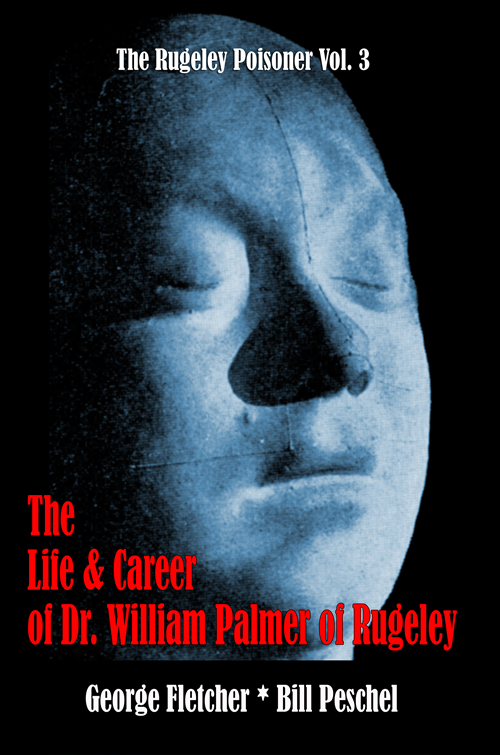 By George Fletcher and Bill Peschel
228 pages, 2 maps, 17 illustrations
In 1925, George Fletcher published "The Life and Career of Dr. William Palmer of Rugeley," reflecting his lifelong fascination with the notorious poisoning case. Drawing on his family's ties to Rugeley and the county of Staffordshire, he visited the place several times. He interviewed many of the people connected with the case. He recorded their stories and observations. His biography was the first to reveal new information about Palmer and the controversies surrounding his trial.
This new edition of "The Life and Career of Dr. Palmer of Rugeley" brings Fletcher's biography back into print with the original illustrations and photographs. Editor Bill Peschel has added more than 100 footnotes, two maps and essays on strychnine, Rugeley then and now, Palmer's influence on popular culture and more.
Fletcher's biography is part of "The Rugeley Poisoner" trilogy that includes two books published in 1856: "The Illustrated Life and Career of William Palmer" and "The Illustrated Times Trial of William Palmer." With these three books, true-crime fans can experience early Victorian Britain where money was king, reputations ruled, and where evil lurked in the heart of a benign doctor.
Excerpt from the book
Read a 10-page excerpt from the trade paperback of "The Life and Career of Dr. William Palmer of Rugeley."
Buy It Here
Trade Paperback: $15.99
Ebook: $2.99
Trade Paperback (Amazon)
Amazon Kindle Edition
Trade Paperback at the Book Depository
About the Authors
George Fletcher (1848-1933) was born in Bromsgrove, Worcestershire. He was educated at Bromsgrove School and earned an MA and an MD at Clare College, Cambridge. He was a member of the Royal College of Surgeons and the Worshipful Society of Apothecaries. He worked as a surgeon at St. Thomas's Hospital, London, and was visiting Magistrate at Pentonville Prison.
Bill Peschel is a recovering journalist who shares a Pulitzer Prize with the staff of The Patriot-News in Harrisburg, Pa. He also is mystery fan who has run the Wimsey Annotations at www.planetpeschel.com for nearly two decades. He is the author of the 223B series of Sherlock Holmes parodies and pastiches, The Complete, Annotated Mysterious Affair at Styles, The Complete, Annotated Secret Adversary and The Complete, Annotated Whose Body? as well as Writers Gone Wild (Penguin Books). He lives in Hershey, where the air really does smell like chocolate.
Ebook Creator: BB eBooks in Thailand.