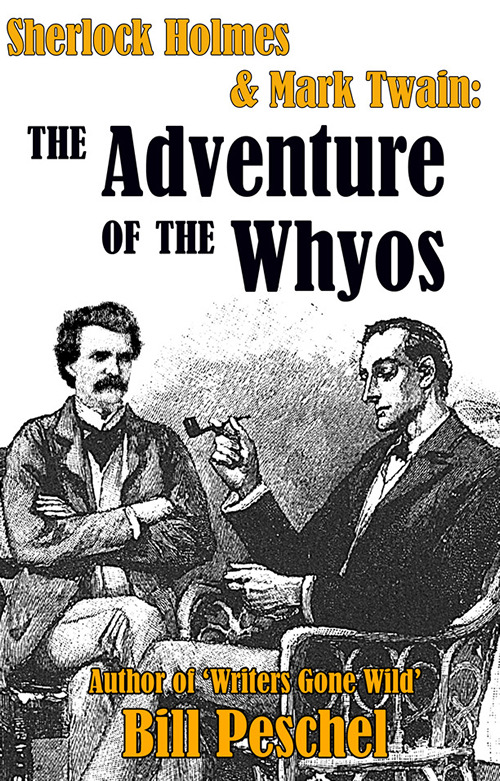 By Bill Peschel
Mark Twain's fans know that he did not approve of Sherlock Holmes. He even parodied the detective and his methods in "A Double-Barreled Detective Story." But why?
"The Adventure of the Whyos" hints at an answer. This 8,000-word Sherlock Holmes pastiche, the first in a series, reveals that Twain had participated in several misadventures with Holmes. The story itself is about 28 pages long. The rest of the book consists of excerpts from Bill Peschel's "Writers Gone Wild" and annotated editions of novels by Agatha Christie and Dorothy L. Sayers.
Reeling from financial disaster after the failure of his publishing house, Mark Twain's flight to Europe is interrupted by a friend who is negotiating to marry off his daughter to an English lord. She is resisting and has fallen ill. Could Twain talk her into agreeing? There is also a little matter of blackmail, and for that, Twain reluctantly calls on Sherlock Holmes to help find the answers.
Drawn from papers found in a box marked "Burn This!" at a Carlisle, Pa., auction, the Twain/Holmes stories promise to open an unsuspected aspect of Twain's life.
Read an excerpt from "Sherlock Holmes and Mark Twain: The Adventure of the Whyos" and see for yourself!
Buy The Ebook For $2.99 99 Cents!
(Note: As of Aug 26, 2015, I'm taking the ebook version down from everything except Amazon. When that's completed sometime next month, I'll put it into Kindle Unlimited so that Prime members can read it for free.)
Amazon Kindle Edition
EPUB from Ciando
About the Author
Bill Peschel is a recovering journalist who shares a Pulitzer Prize with the staff of The Patriot-News in Harrisburg, Pa. He also is mystery fan who has run the Wimsey Annotations at www.planetpeschel.com for nearly two decades. He is the author of the 223B series of Sherlock Holmes parodies and pastiches, The Complete, Annotated Mysterious Affair at Styles, The Complete, Annotated Secret Adversary and The Complete, Annotated Whose Body? as well as Writers Gone Wild (Penguin Books). He lives in Hershey, where the air really does smell like chocolate.
Ebook Creator: BB eBooks in Thailand.