Welcome to 223B Baker Street
Sherlock Holmes Great War Parodies and Pastiches II: 1915-1919 collects 37 pieces published during the middle phase of Conan Doyle's life. Some were written by soldiers in the trenches, schoolboys, reporters, and other amateurs, but many professional writers turned out stories, such as Ring Lardner, John Kendrick Bangs, Carolyn Wells, and a 15-year-old George Orwell! We've also included the stories' original art and more than 300 footnotes identifying obscure words, historical figures, and events that readers were familiar with then but are forgotten today.
Peschel Press' 223B Casebook Series — named because they're "next door" to the original stories — is dedicated to publishing the fanfiction created by amateur and professional writers during Conan Doyle's lifetime.
Table of Contents
(Links take you to the story posted at Planetpeschel.com. In many cases, the introductions there have been rewritten and expanded for book publication.)
1915
Postum Ad / Anonymous
In Sheep's Clothing / Anonymous
A Study in Handwriting / Ring Lardner
The 'Varsity Letter / Anonymous
The Adventure of the Clothes-Line / Carolyn Wells
Sherlock Holmes Solves a Problem in Publishing / Anonymous
Water, Water Everywhere And Not a Drop for Tea / Anonymous
The Death of Sholmes / Charles Hamilton
Bibliographic Bones / Frank Place
The Mystery of 2643, Pte. Chugwater / Anonymous
1916
The Puzzling Adventure of the Misunderstood Monkey Business / Maxwell Bukofzer
Herlock Shomes At It Again / Anonymous
To Sir Arthur Conan Doyle / "Edward Moore" (Edwin Muir)
In Baker Street / Bert Leston Taylor
The Mystery of the Leaping Fish / Tod Browning and Anita Loos
The Model T Mystery / E.H. Soans
Narpoo Rum / Anonymous
The Adventure of the Missing Group / A.S. Reeve
An Irreducible Detective Story / Stephen Leacock
Sheerluck Holmes Deduces / J. Raymond Elderdice
1917
Intercepted Communications / John Kendrick Bangs
Cherchez la Femme / Carolyn Wells
The Deep Mystery / Anonymous
The Looking-Glass / Anonymous
The Scarlet Drop / "Sir Kadaver Bonan Oyle" ("Fibulous")
Zero! or The Bound of the Bakershires / Anonymous
Belsize as a Commentator: Sherlock Holmes / Vernon Rendall
1918
Adventure of the Lost Meat-Card / Eric Arthur Blair (George Orwell)
A Game at Chess / "E.A.G."
The Adventure of the Shattered Boudoir Glass / "Dr. John H. Watson, M.D." (Oliver Wells)
Sherlock Holmes and Certain Critics / Ellis G. Roberts
Watson, Once Epaminondas, Joins Deteckative Gubb / Ellis Parker Butler
The Adventure of the Eleven Cuff-Buttons / James Francis Thierry
His Last Arrow / R.C. Lehmann
1919
When the Spirits Rapped / Anonymous
Baffled, Another Adventure of the Dear Old Has-Been, Sherlog Combes / Anonymous
Holmes Out-Sherlocked / W.J. McDonnell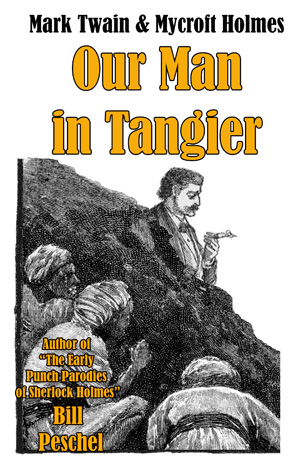 PLUS: A new Mycroft Holmes story featuring Mark Twain by Bill Peschel: "Our Man in Tangiers"