My grocery bag technique always uses a line of trim. This is not just because decorating cloth bags look nice.

1
The trim line fulfills several functions. Firstly, it covers up the raw edges of the folded over bag top without adding more bulk. This is important as you don't have to use trim at all; you can just fold under the raw edges of the bag top by a half-inch, press it flat, and stitch the hem down.
The difficulty is the thickness of the sewn down flange. Folded under again, you are sewing through eight layers of thick cloth, plus the bag layer. Unless you have a heavy-duty sewing machine, folding under the raw edges will probably result – it has for me – in sewing this section of the hem by hand. A heavy needle, a thimble, and a pair of pliers (to yank the needle through the thick cloth layers) will work, but this is time-consuming and hard on the hands.
Trim is easier to work with as you have the flange layers, plus the trim, plus the thickness of the bag, or six layers of cloth in all.
The other main reason I use trim is it reinforces the bag's structure. Some work better than others, but used in concert with the bag straps, well-chosen trim forces the bag to stand upright and open when it is being filled.
The third reason I use trim is, yes, decorative. I like that band of color across the bag, whether I choose trim to match the bag straps or to contrast with them and the fashion fabric.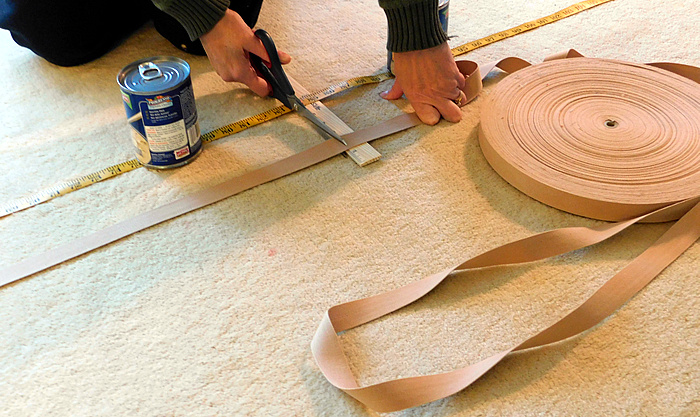 The length of the trim
How much trim do you need? A bag made of 13-by-15 inch panels will require about 34 to 36 inches of trim. A bag using 14-by-16 inch panels will require about 36 to 38 inches of trim. The exact length will depend on the width of the gusset as that is the only variable.
What kind of trim should you use? Depends on what you have. Don't use trim less than half an inch wide. That's not wide enough to cover and contain the raw edge, especially if it's uneven. Narrow trim also doesn't lay as well over the thickness of the sewn-down flanges.
Your trim should be flat. A bumpy, irregular trim won't be as easy to sew down and, since the bag straps are sewn over top of the trim, your bag straps won't lay smoothly, either. This omits a wide variety of fancy braids and fringes. If you were to use ball trim (the supporting braid can be wide enough) you would have to trim off the balls where you sew down the bag straps. The same is true of fringe.
A wide range of possibilities exists that are both wide enough and flat. I have used extra-wide single-fold bias tape, quilt binding, readymade bias hem facing, ribbon (both grosgrain and satin), twill tape, and lightweight webbing. It depends on what I have floating around. Sometimes, I will iron extra-wide double fold bias tape flat, transforming it into single-fold bias tape, and use that.
For Frankenstein bags, I am not above piecing my scraps of bias tape, or butting the sections together and hiding the joins under where the bag straps will go. When I piece trim, I choose trim that has the same weight and width. If I have enough scraps leftover from other projects, I color match. If I don't, I don't worry about it and use what I have available. The functionality is not affected.
I do make sure that the weight of the trim is the same on any given bag; that is, I will piece extra-wide single-fold bias tape but I won't use that and twill tape on the same bag.
Strap up before you sew
Whenever I make a new set of bags, I see first if the strapping I am using for bag handles will work. Grosgrain ribbon or twill tape, while it has to be doubled up for the straps, works perfectly for trim as is. It will also match perfectly. Webbing is generally too heavy to use, but if you do, it will ensure that your bag will hold itself open on the checkout counter.
If you make single-fold bias tape from fabric you already have on hand, the sky's the limit for your fabric choices as long as you can force the fabric through a bias tape maker. Make the finished bias tape an inch wide or so, after the raw edges have been turned under.
You can also make non-bias trim, but if you do this, you have to be perfectly on grain. You won't get any stretch and you need a deeper fold under to prevent any future unraveled edges.
To do this, measure, mark, and cut your woven fabric into 2-inch wide strips. Press under a half-inch on each side, giving you a finished strip that is 1 inch wide, with the fold-unders meeting in the middle but not overlapping.
Obviously, a wider starting strip of fabric will leave you with a wider piece of trim. Don't make your fold unders narrower than half an inch. It is easiest to cut cross-grain, from selvedge to selvedge, so your finished lengths are long enough to be useful but not impossible to work with. They can be pieced so you don't end up with a lot of short lengths hanging around. Joins, if carefully sewn, aren't noticeable.
Don't use anything sheer, open, lacy, gauzy or that would be extra heavy when folded over. Otherwise, use whatever shows up in the stash that you need to use up. If you are okay with the color match, then the cloth will work. If you're going to use a knit, test it on one bag before you cut and sew a whole pile of trim. Stretchiness is not an asset in a grocery bag.
If you make trim from your stash, make it between steps three and four so they are ready when you need them.
The trim line finishes the grocery bag, making it look polished and professional. It is another way to separate your bags from the run-of-the-mill grocery bags that everyone else owns.
(This post is a draft from the upcoming book "Sewing Cloth Grocery Bags." A complete list of the posts can be found here.)