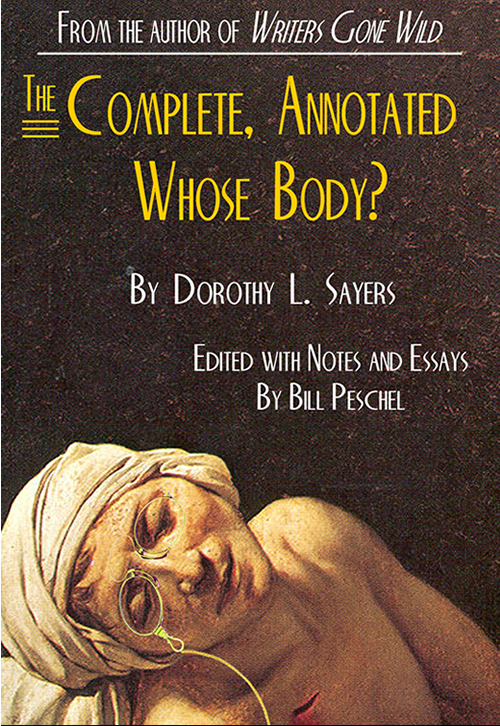 When church architect Mr. Thipps finds a naked man in his Battersea bathroom, Lord Peter Wimsey is on the case! The aristocratic amateur detective, accompanied by his camera-bearing manservant Bunter, follows a trail of blood as he pursues stock market manipulation, medical malpractice and Lord Brocklebury's edition of Dante.
But the curious case of the bathing body turns darker and deadlier as Lord Peter uncovers a ghastly crime.
Published in 1923, "Whose Body?" was Dorothy L. Sayer's debut novel, and Bill Peschel has provided hundreds of notes to guide the reader through Lord Peter's world, describing words, objects and ideas that were familiar to Sayers' readers but might be obscure or unknown today.
"The Complete, Annotated Whose Body" contains:
* More than 500 notes on England's personalities, aristocracy, politics, religion, history, society, and literature.
* Three maps of London showing locations important to the novel.
* Essays about England in the 1920s, such as anti-Semitism, Argentine banks and notorious criminals.
* Timelines of the life of Dorothy L. Sayers and Lord Peter Wimsey's cases.
"The Complete, Annotated Whose Body" contains more than 40,000 words of commentary on Sayers' novel and her world, helping readers to deepen their understanding and enjoyment of one of mystery's great detectives.
An 80-page excerpt from the book is available in PDF format. Download the excerpt from "The Complete, Annotated Whose Body?"
Buy the Ebook
Amazon Kindle Edition
EPUB at Barnes & Noble
EPUB at Kobo
EPUB at Lulu
Buy the Trade Paperback
at Amazon
At Barnes & Noble

At Flipkart
About the Authors
One of the great mystery novelists of the 20th century, Dorothy L. Sayers was born in Oxford in 1893 and was one of the first women to be granted a degree by Oxford University. She wrote more than a dozen Lord Peter novels and short stories, and four more novels were written by Jill Paton Walsh. Sayers was also noted for her Christian writings and plays and her translation of Dante. She died in 1957.
Bill Peschel is a recovering journalist who shares a Pulitzer Prize with the staff of The Patriot-News in Harrisburg, Pa. He also is mystery fan who has run the Wimsey Annotations at www.planetpeschel.com for nearly two decades. He is the author of the 223B series of Sherlock Holmes parodies and pastiches, The Complete, Annotated Mysterious Affair at Styles, The Complete, Annotated Secret Adversary and The Complete, Annotated Whose Body? as well as Writers Gone Wild (Penguin Books). He lives in Hershey, where the air really does smell like chocolate.
Ebook Creator: Typeflow.