Here are a few tools I recommend that will make sewing cloth grocery bags easier. (We should have pictures of the gadgets)
A sewing machine, needles, pins, thread. You can sew a cloth grocery bag by hand, but a sewing machine makes the job light-years faster.
A walking foot. You don't need one, but it will make your life infinitely easier. I sewed hundreds of bags before I bought one. Afterwards, I wondered why I waited so long. A walking foot controls the creep of fabric as it passes through the machine. Some fabrics stretch as you sew them, leaving you with a trapezoid shaped piece of gusset to trim off and a twisted bag. Sewing very slowly control this, but not nearly as much as a walking foot will. Even with the walking foot, you may still get some creep.
'Seams right with Nancy Zeiman' measuring gauge.
Clover makes this wonderful little gadget. It is not needed, but it makes it easier to mark the pivot points if you don't trust the accuracy of measuring by eye.
Cardboard spacers for bag handle placement. Not vital but it is far faster to use spacers than to measure each and every bag placement. If you are planning to make dozens of bags, save yourself this trouble and use spacers. Make them from any lightweight cardboard, even paper will do. You will need three: two for the sides and one for the bottom.
If you are making bags using 13-by-15-inch panels, cut two side spacers 1½ inches wide by 14 inches long. Cut your bottom spacer a half-inch wide by 14 inches long.
If you are making bags using 14-by-16-inch panels, cut the two side spacers 2 inches wide by 15 inches long. Cut the bottom spacer a half-inch wide by 15 inches long.
Cardboard insert for pinning bag straps. This keeps you from pinning the straps to the other side of the bag. After you pin your first bag without one, you'll understand why you have to have the insert. Cut a rectangle from heavy cardboard or, if you are going to make hundreds of bags, use quarter-inch thick hardboard. Use the kind with at least one smooth side. Hardboard is available at every building supply store.
If your bags use 13-by 15-inch panels, cut the insert 12 by 14 inches.
If they use 14-by-16 inch panels, cut the insert 13 by 15 inches.
Yardstick. To get long, straight lines across long lengths of fabric. Measuring tape will never give you a straight line.
60-inch measuring tape. To mark panels, gussets, and webbing.
120-inch measuring tape. If you have to double up twill tape or ribbon to make bag straps, you have to measure an 84-inch long section. A 60-inch measuring tape won't do the job.
Chalk marker. I use the Bohin 91493 cartridge chalk marker. It gives a fine line and the wide variety of colors ensures there's a color that shows on the fabric. Pencil works, too, but chalk is easier when drawing long lines to mark fabric for cutting. If you don't want to buy this, then use what you have on hand that gives a fine, accurate cutting line. Your cutting lines will never show in the finished bag.
Ultra-fine tip felt marker. Mark the pivot point with this. Black is fine as the mark won't show in the finished bag.
Iron and ironing board. You'll use this a lot.
Sturdy hand needle, thimble, and pliers. You want these available in case the layered seam margins get to be too much for your sewing machine. If that happens, you have to sew the seam by hand. The pliers will help you pull the needle through all the layers.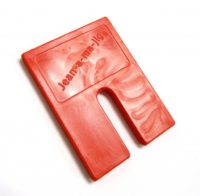 Jean-a-ma-jig. Dritz makes this little gem. It lets your sewing machine handle the transition between two layers of cloth and thick built-up seam margins, the kind you get when sewing the foldover over top of the flanges. You're much less likely to get broken needles and skipped stitches. I don't use my jean-a-ma-jig often when sewing bags, but every once in a while, I use much heavier fabric than normal, and then I need mine.
Fray check. You may want to treat the raw edges of webbing so it doesn't unravel. I don't usually bother.
Heavy soup cans or other similar items to act as weights. You'll need these when cutting webbing and especially when cutting 84-inch lengths of twill tape or ribbon.
(This post is a draft from the upcoming book "Sewing Cloth Grocery Bags." A complete list of the posts can be found here.)