Once upon a time, traditionally published successful writers never needed a book production schedule. They lived easy, carefree lives. They'd spend their mornings writing, and when they had achieved their word count, devote the rest of their day living their lives: maybe do a little research, submit to an interview about their latest book, or do some light editing over a cocktail.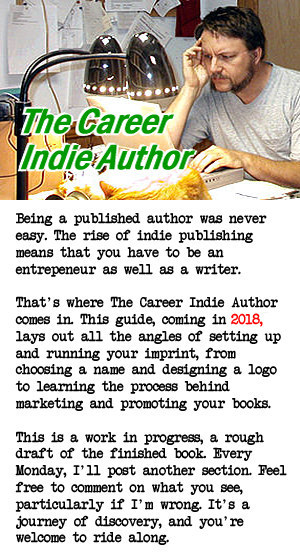 At least, that's the image put out by writers like Anne River Siddons, Mary Higgins Clark, and Lawrence Block. Sure, getting there was a tough road, but once you were admitted inside the publishing world and selling books, it seemed like a pretty good gig.
Siddons: "Each morning, Siddons dresses, puts on her makeup and then heads out to the backyard cottage that serves as her office. And each night, she and her husband edit the day's work by reading it aloud over evening cocktails." (Anonymous, "Peachtree Road," Powell's City of Books, http://www.powells.com/book/peachtree-road-9780061097232)
Clark: "Typically, she has a cup of coffee in her office in the morning, then writes or edits until lunch." (Kalb, Peggy Edersheim, "Murder, She Word Processes," The Wall Street Journal, Sept. 4, 1998, pg. W11A.)
Block: "Some days the writing flows and I can do my five pages in one glorious hour. When that happens, I'm free to do as I wish with the rest of the day." (Block, Lawrence. Writing the Novel, p. 124)
To be honest, these writers worked hard to get to that level of success. They worked long hours to hone their writing and editing skills and developed the discipline to finish their books on time. But at least the majority of their job involved writing and editing.
Indie writers never had that option, not if they want to make money. It's perfectly possible to publish books without a website, a Twitter account, a YouTube trailer, or even taking the trouble to send in a copyright notice.
But if you want to make money, whether to cover your expenses or to buy that gold-plated yacht, you'll have to do more. This is where project management comes in.
What Is Project Management?
When corporations decide to do something, whether it's to launch a new product, create and sell a piece of software, or even move the offices to a new location, they form a team with someone in charge. They make plans, assign responsibilities, and settle on a schedule with deadlines.
You, the indie author, won't have nearly this big a task. But if you're developing a book series, for example, you'll potentially have a lot of components to manage:
* Plot and write the books.
* Get the books edited, whether through an editor you find and hire, or from your spouse, friends, fellow writers, or beta readers. You'll have to create the PDF or ebook, send them out, set a deadline for comment, then revise based on their notes.
* Maintain a series bible to keep track of characters, place descriptions, customs and other world-building elements. Yes, I know, George R.R. Martin doesn't use one. He relies on two hardcore fans to answer his questions. If you're a best-selling author, you can do that, too.
* Hire an artist to do the covers and write the back cover and ad copy.
* Create and run advertising and marketing campaigns, including soliciting reviews.
* Keep track of your daily work. If you deduct your expenses and the IRS comes calling for an *whisper* audit, you'll need proof that this is a full-time job and not a hobby if you want to survive the experience.
* Maintain the financial records, keeping track of expenses, income and number of books sold.
* Record statistics, such as the results of your advertising campaigns, the number of visitors to your web site, and the number of time your newsletters are opened. Use this feedback to determine which strategies are working and where improvements need to be made.
* File your correspondence, research materials, drafts and outlines, and any other material that passed across your desk worth saving. Organization counts, and will pay off the moment you can get your hands quickly on a vital piece of paper.
* Determine a publishing schedule for next four quarters. This could be as complex or a simple as you like. Start by answering this question: what books are you publishing in each quarter? Set a date, then work backward, taking into account your productivity, including how many days a week you're working.
In the end, if you know how many words a day you can produce, you'll get a good idea when the book will be ready for the editor, when to schedule a cover, when to develop an ad campaign, and other important milestones.
I've already published my Book Production Checklist. It is used when the manuscript is finished and is ready to be turned into an ebook and trade paperback. Feel free to copy and modify it for your own uses.
There are plenty of resources online that you can use as a source of ideas or to adapt for your own business.
* Jane Friedman: Self-Publishing Checklist.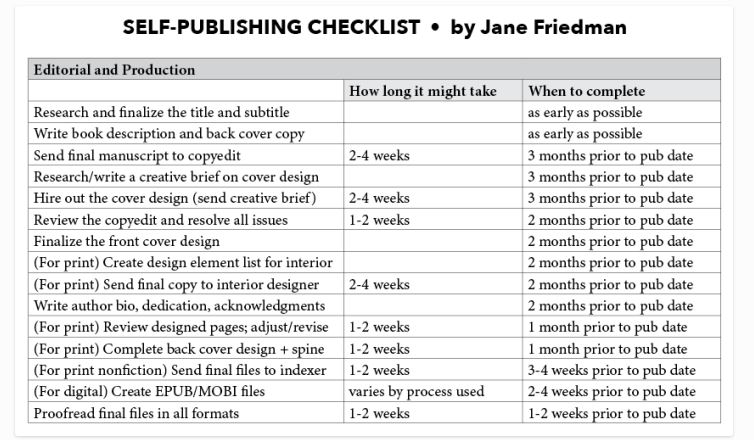 * Ingram Spark: Book Production Schedule.
* Bookworks: Book Production Checklist for Indie Authors.
* Best-selling author Denise Grover Swank wrote a three-part business plan that covered two series:
By now you must feel exhausted. Maybe a little scared. Do you have to do all this? That's hard to say. Your work style may handle a looser schedule. You may not feel under a lot of pressure to get your books out on time. You may want to start with a small list and modify it as you publish more books and learn about gaps in your knowledge that should be covered.