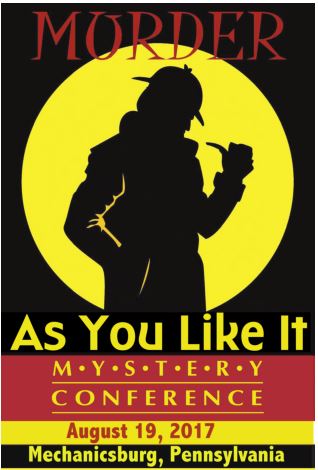 August is coming up, and that means it's time for the Murder as You Like It conference!
It's a great fun day to spend with mystery readers and authors. This will be my fourth year at the show, and I've always had a great time. There's something about meeting people who like to read, who want to share good books they've read, that leaves me feeling energized and happy by the end of the day.
So if you're at all interested in registering, please visit the Mechanicsburg Mystery website for the registration information.
As always, it's sponsored by Deb Beamer and her Mechanicsburg Mystery Bookshop. It'll be from 9:30 a.m.-2:30 p.m. at Mt. Olivet United Methodist Church, 5000 Simpson Ferry Road.
Luncheon speakers will be Pip Ballantine and Tee Morris. Authors of the "Ministry of Peculiar Occurrences" series.
Here are the authors who are attending, with links to their websites or books:
Barbara Early
Don Helin
Nancy A. Hughes
Jane Kelly
Eleanor Kuhns
Greer Macallister
Dennis Royer
Randall Silvis
I will be there as well, this time as master of ceremonies, which means I'll be walking around, announcing the acts, and running the author speed-dating session.
Tentative Schedule
(all times approximate)
9:30 – 10:00 am — Registration
10:00 – 10:50 am — Panel: Master of Puppets: How do authors manipulate their characters to get the story they want?
Moderator: Dennis Royer.
Panelists: Barbara Early, Don Helin, Nancy Hughes, Jane Kelly, Eleanor Kuhns.
11:00 – 11:50 am — Author "Speed Dating" You'll have a chance to meet with each author for a few minutes to hear about their books and ask questions.
12:00 – 12:50 pm — Lunch with Keynote Speaker/Authors: Pip Ballantine and Tee Morris
1:00 – 1:50 pm — Panel: Series vs Stand-Alone Mysteries. Why write a mystery series? Why write a stand-alone mystery? Is writing one kind more difficult than the other?
Moderator: Don Helin
Panelists: Greer Macallister, Dennis Royer, Randall Silvis.
1:50 – 2:30 pm — Additional time to meet the Authors/Book Signing