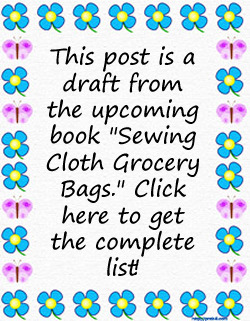 When buying cloth grocery bag material, you want to look for something sturdy. Start with wovens. Knits generally have too much stretch for grocery bags. If the cloth you are looking at is heavy enough to make drapes or a jacket, it is the right weight. Any fabric light enough to be a summer weight blouse is too thin. Look for a tight weave; don't choose something that looks like you could use it for needlepoint. Open weaves beg for your groceries to snag in them.
Upholstery can be troublesome, depending on how heavy it is. Very heavy upholstery, the kind with a real thickness, works beautifully as a grocery bag; the problem is forcing all that weight through a regular household sewing machine. Lighter-weight upholstery sews up well and the finished bag can be sturdy enough to hold its shape when the grocery bag is sitting open on the counter.
You can sew bags of printed fabric just as easily as solid colors. A fabric that has a definite up and down may have to be cut more carefully so you don't end up with upside down motifs. Stripes and plaids can be matched or not, depending on how much fabric you want to use and whether or not you are selling the bags or making them for your own use.
I usually start out by looking for fabric in the home-dec department. It is the right weight and it is often wider than the 43 inches that seems to be standard now in dress goods. If you are making a dozen or more bags you will need at least 6 yards of 45-inch wide fabric, selvedge to selvedge. Wider fabric is better as it is easier to lay out the bag parts and you have some margin for error.
I do incorporate the selvedges into my grocery bags, unless they are woven so tightly compared to the fabric that they distort the edge. These are utility bags, and I don't care if a bit of the selvedge shows. If you choose to not include the selvedge in your calculations, then you will need more fabric. This is especially true with 45-inch wide cloth; it cuts precisely into three panels, each 15 inches high and 13 inches wide. Excluding the selvedge means you must cut three panels, each 13 inches high and 15 inches wide, using 2 more inches of cloth per set of panels. Those extra inches add up over a dozen bags.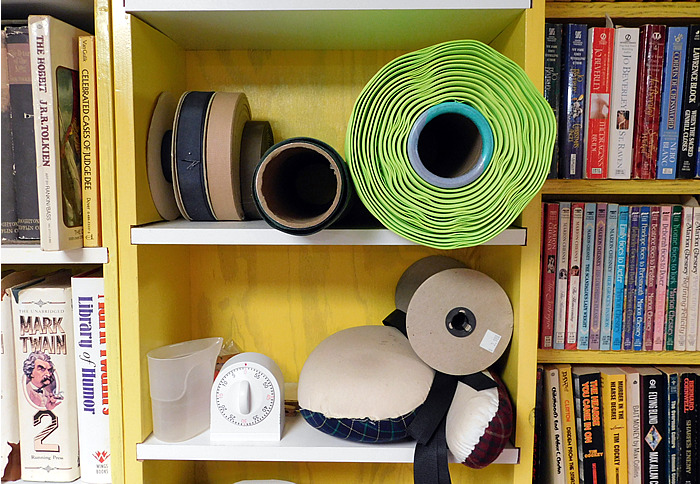 Webbing for bag straps
I do not use cloth for my bag straps. I don't like sewing them as it is time-consuming, cloth bag straps use up a lot of yardage, and I don't like how bulky they become. I use either purchased webbing, which you can by in 15 yard lengths at Joann's (use your 50%-off coupon) or online. Don't use webbing less than 1 inch wide. Nylon webbing is super strong. I also use inch wide grosgrain ribbon, doubled over and sewn together to get the right heft and thickness. This can also be bought by the roll, far less expensive than buying it by the yard.
Since I don't use cloth for my bag handles, I do not incorporate the needed yardage into my patterns and directions.
Where to buy cloth
I buy cloth for grocery bags one of two ways: at a regular fabric store, in the home-dec department, on sale and with my coupons; or at a thrift shop. Walmart will sometimes have the right weight in its dollar bins. Since I am not fussy about color or pattern, I buy what feels right in my hand.
The cost of cloth by the yard, unless it comes out of the dollar bins, can add up fast when you are making dozens of bags and you have to purchase webbing. Thrift shops can come to your rescue.
Thrift shops routinely sell large pieces of cloth, but this fabric is disguised as drapes and tablecloths. Don't hesitate to cut up a heavy tablecloth or pick apart a set of drapes. If the fabric is in good shape, no holes or wear spots, it will last for years as a grocery bag and the price will be right. Many areas have a Goodwill bargain bin store and everything there is sold by the pound.
Take your shopping cart, search through the bins for draperies and tablecloths, and have it weighed at the cash register. The current price at the Goodwill bargain bin in Lancaster, Pa., is $1.49 a pound if you buy less than 20 pounds. When you buy more than 20 pounds, the price goes down.
If you purchase pinch-pleated draperies, you have to unpick the pleats prior to washing the fabric in warm water. Line-dry the fabric, and it is ready to go. Lined drapes have to have the lining removed, before or after washing, before you cut up that cloth into the bag parts. I normally unpick the seams to get every inch of usable cloth.
What is the best price for fabric? Free, of course, but most of the time, we won't get that lucky. So let us go off shopping to the red tag rack at Joann's. This is something that I am extremely reluctant to do as I need to use up the bales I already have at home. Regrettably, I don't have any remaining home-dec weight fabric other than one large piece that I have to fish out and measure. Everything else that I will use for the fabric grocery bag project is scrap that has to be sewn into larger sections.
These are all home-dec weight fabric; three are drapery weight and one is a lightweight upholstery.
Smallest piece of fabric; dark brown background with paisley: 3 and ¼ yards by 45 inches. This one was $3 per yard. 3 x 36 equals 108 inches length plus 9 inches times 45 inches in width equals 5265 square inches or 4.06 square yards.
Thirty-six x 45 equals 1,620 square inches or 1.25 square yards. That is, this fabric costs $3 for every 1.25 square yards.
Medium fabric; green and yellow floral, upholstery weight: 6 yards by 60 inches. $3.50 per yard. This is a few inches longer than the stated length on the bolt. 6 x 36 equals 216 inches long times 60 inches in width equals 12,960 square inches or 10 square yards.
Thirty-six x 60 equals 2,160 square inches or 1.67 square yards. That is, this fabric costs $3.50 for every 1.67 square yards.
Largest length of fabric; gray houses: 8 yards by 55 inches wide. I bought this years ago from the dollar bin at Walmart for $1 per yard (I think). 8 x 36 equals 288 inches long times 55 inches in width equals 15,840 square inches or 12.22 square yards.
Thirty-six x 55 equals 1,980 square inches or 1.53 square yards. That is, this fabric costs $1.00 for every 1.53 square yards.
Largest fabric; drapery weight floral : 8 yards by 54 inches wide. $3.50 per yard. This was also a few inches longer than the stated length on the bolt. 8 x 36 equals 288 inches long times 54 inches in width equals 15,552 square inches or 12 square yards.
Thirty-six x 54 equals 1,944 square inches or 1.5 square yards. That is, this fabric costs $3.50 for every 1.5 square yards.
(This post is a draft from the upcoming book "Sewing Cloth Grocery Bags." A complete list of the posts can be found here.)
Cloth grocery bags have two costs. The first is your time so you want to be as efficient as possible in making them. The second is the fabric.